Great British baking since 1964
At Homepride, we're proud of our heritage. We're passionate about milling the finest, smoothest flour, made from 100% British wheat.
Homepride is one of Great Britain's most iconic brands having been a mainstay of British baking since 1964.
Our premium quality flour together with Fred – our chief flour-grader – have made Homepride instantly recognizable and our 100% British wheat provenance means we're loved by bakers at all levels.
Take a look at our interactive timeline, which tells our story over the years.
Fred the flour grader
Fred has been synonymous with Homepride since his introduction in 1964, when he appeared in a series of TV adverts, with the message 'Great British baking since 1964' and an advertising icon was born.
Fred is so popular that he has his own collectables shop. Some of the original Fred items are now considered to be antiques!
1920
Where It All Began
Homepride began life in the Midlands as a pre-packed flour manufactured by Robbins and Power.
The brand was later taken over by Spillers – a company that had been making flour since 1897.
1940 - 1960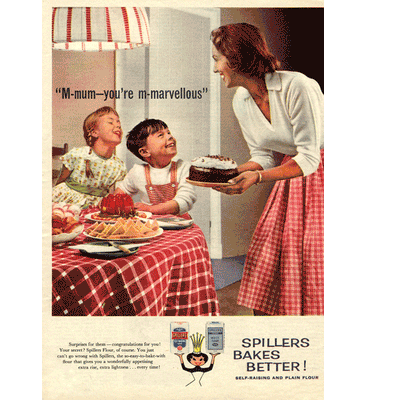 A Time Of Change
Manufacturing of the Homepride brand was put on hold whilst Spillers sold it's pre-packed flour under a range of regional brand names such as McDougalls, Feathery Flake and Spillers Albatross.
1963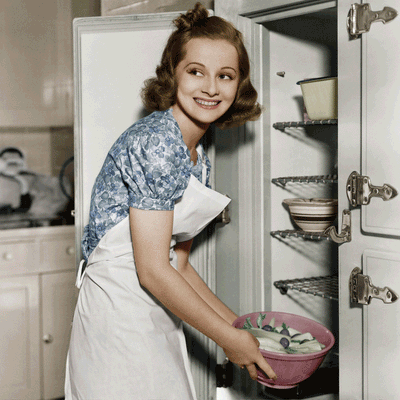 Technological Breakthroughs
A technological breakthrough in flour production meant that bakers would no longer need to sieve their flour. The new production method has no large grains of dust and was launched as a national brand – Spillers Homepride. The launch was supported by advertising that highlighted the pre-sieved nature of the product with the strapline you may recognize on our lids: 'Graded Grains Make Finer Flour'.
1964
Introducing Fred!
Spillers was approached by two copy writers called Bob Geers and Bob Gross who had the idea for an advertising campaign headed up by chief flour grader; Fred.
Their pitch resulted in the birth of an advertising icon!
1970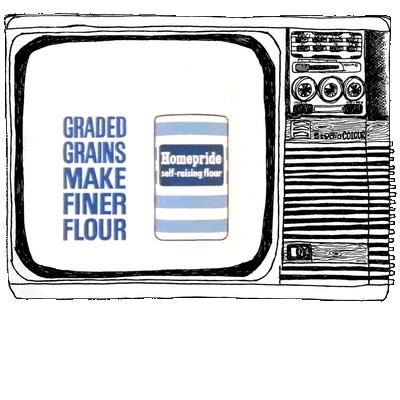 Standalone Brand
Spillers was removed from the branding in the 1970s and Homepride flour became the standard for flour.
1990
From Iconic Characters to Iconic Pack
Homepride flour launched our distinctive rigid sided 'can' offering bakers across the land a resealable pack that made less mess, stayed fresh and was easy to store. It has since been named as one of the ten most successful products marketed in the UK.
2004
Reaching Milestones
After Homepride flour and the license to the Homepride brand was acquired by Kerry Foods in 1998, Fred celebrated his 40th birthday in 2004!
2013
Cracking Good Job, Gromit!
Homepride's Fred teamed up with the Wallace and Gromit Big Bake to help raise money for sick children in hospitals and hospices across the UK.
2014
Half a Century!
And of course, Fred celebrated his 50th back in 2014.
2016
100% British Wheat
This year, we have announced our 100% British Wheat provenance. All Homepride flour is made from wheat produced in Great Britain – a fact we're very proud of. Thank you for supporting our farmers and our brand – and here's to the next century!
2017
Emma Bridgewater Collectable Ceramics
We linked up with Emma Bridgewater to launch our now famous collectable ceramics. Have a look in our shop today and see what you fancy!
2018
The World's biggest coffee morning
Homepride were proud to support Macmillan Cancer Support and the World's biggest coffee morning. 
2019
Superior Sponge flour
Launched our Superior Sponge flour and '00' Extra Fine flour
2020
Peter Rabbit
Homepride teamed up with Peter Rabbit™ 2 to offer amazing family prizes. 
2022
Sustainability
We're looking to make our packaging more sustainable. Watch this space!
Story of flour
Up to the end of the 19th century, country millers produced all of Britain's flour. They milled plain flour and packed it in enormous 280lb sacks which they sold on to local bakers and merchants. Bakers then used the flour to make bread and sold this and flour to customers.
In the first half of the 20th century, flour became pre-packed and branded; however, technology and aggressive marketing from large millers combined to put many smaller brands out of business.
Self raising flour was invented as far back as 1845 and was effectively one of the first convenience foods. However, until the early 20th century, it was considered something of a novelty. When it did finally catch on, self raising flour made baking easier and thus home baking became even more popular.
Today, baking has a firm place in the hearts of the nation with Homepride a key store cupboard ingredient in homes across Britain.